Radius/AAA server software for mobile (GPRS/3G)
Aradial radius server is a high performance full-featured RADIUS server. Boasting excellent performance and technological superiority, Aradial is the unquestioned market leader in its class.

Extensive support for: ISP, Wireless LAN, Mobile Companies.

Aradial Mobile is an adaptation of the Aradial product to the Mobile world supporting:
GPRS Data
GPRS Content
Push to Talk services
Mobile VOIP
Integration with Mobile Operator's Customer Care & Billing System
Integration with Mobile Operator's Online Charging System (Prepaid)
WiFi for Mobile Operators
Web Hosting Provisioning
Email Servers
Aradial Mobile can be integrated with Online Charging Systems and Network elements that support Mobile Internet.

Aradial is used in GPRS to correlate between the subscriber's phone ID and the IP Address and provide the subscribers' IP network profile.

The network elements use the RADIUS protocol to communicate with Aradial.

Aradial authenticates the subscriber and its service requests, and serves as a Gateway to external authenticators (CRM, Online Billing system, LDAP servers).

Please see also Aradial VOIP.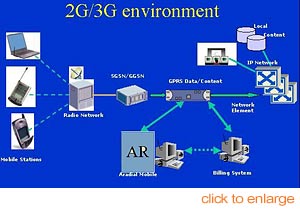 ---
Radius server products